So now you can see how profitable an email list can be for your business. But an email list can only get you sales if there are lots of people on it... people who are highly targeted prospects for you. And that is where my Viral Prize Draw Software comes in!
With my Viral prize Draw Software we'll offer a prize of your choosing (something such as a FREE MEAL or FREE BOTTLE OF WINE WITH DINNER which would work great) and I'll then create an attractive looking entry page for the draw.
Here's an example draw...
So people in your area see the draw online and give you their name and email address to enter the draw. That adds them to your email list. But that's not all... then the magic of the system happens...
Once they've entered, they then see a page like this...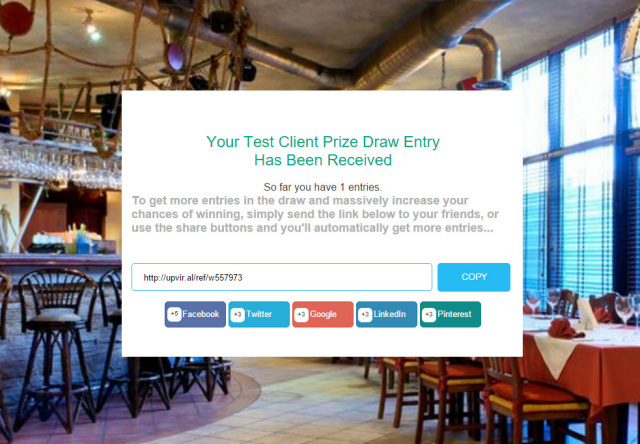 This gives them the chance to get more entries in the draw (and increase their own chances of winning the prize) by sharing the draw online on Facebook, Twitter etc.
Most people want to increase their chances of winning and so use the button to share the draw. This causes the viral effect because people share the draw which means more people enter the draw which means more share it... and so on. And each person who enters is another person on your email list that you can promote your [xxxproducts and or servicesxxx] month after month.
It is not unusual for one Viral Prize Draw to build a list of 300, 500 or even 1000+ more people. All people who are in your area that want to hear about you.
Lets do the math...
You sign up and purchase my "Do It For You Viral Prize Draw".
Your list is currently 1,000 followers on Facebook/Twitter for your Restaurant.
We start the prize draw and your Social media followers are rewarded with 3 to 5 entries for every time they click the button on Facebook, Twitter, Instagram, snap chat, Google plus, Pintrest, Linkedin.
Example:
Referring through their Facebook friends they will be rewarded with 5 extra automatic entries They'll get an extra 3 entries sharing to their Twitter friends, on Pinterest the'll get another 3 entries...etc, etc. (See the above picture for example)
Now your gathering not only your Facebook followers, but your getting their emails and their friends as well. Each one will hit the button to increase their entries into the prize draw. if your follower list was at 1000, and each follower had just 3 of their friends enter the prize draw, then your follower list would quickly jump to 4000. But, what if 5 of their friends joined in, you'd quickly have a list of 6000 followers on Facebook... with their emails! Wow!! Each one Freely giving you their e-mail and anxious to be a part of what you have to offer; monthly newsletters, to receive future discounts, updates, prize draws...etc, etc.
Now...
At the end of each month you send out a discount offer for your new customers to come to your Restaurant. Now, you have a "Happy Hour Special" to offer your customers during the slow time of day.
Lets just use the newly built list of Facebook followers, 4000 new followers.
What if...out of those 4000 new followers just 2% respond to the discount offer and came to your Restaurant. 2% of 4000 is 80 people. But normally customers bring someone to dine with them, don't they? So, now you have 160 new customers. Even with your discount, lets say they spend $25.00, that's $4000 new growth to your business!
What will happen if we build the email list even higher...do the math!!
And this will be just the beginning…
Over time, your database will continue to grow, becoming an even more powerful asset, tempting even more local people to your business.
How much does it cost?
With my full done-for-you system, I not only set up your viral prize draws but also look after the monthly management of your email list and the sending out of your newsletters. This includes all of the following…
Initial Setup
Set up of your first prize draw with my Viral Prize Draw Software

Set up of the standalone website which hosts your prize draws. This will have its own domain name relevant to your business.

Set up of your email list system with the special email builder software. This is a paid for service, but with my Done-For-You system, all costs are included.
With my Done-For-You system, your initial setup is included at no extra charge.
Fully Managed Monthly Newsletters
There is no point building a large email list of your customers and potential customers and then not sending them anything and so the Done-For-You system also includes the creating and sending of a newsletter each month. You will need to tell me what you want to include in the newsletter of course as you know your business far better than me, but the design of an attractive looking newsletter and the sending it to your growing list, is taken care of for you each month.
As an example, your newsletter could include offers to attract customers at times when you're normally quietest, details of special events, new products or other news from your business. Anything that will keep your business in your customer's mind and tempt them to buy from you rather than one of your competitors.
So every month your Done-For-You system includes…
Fully managed solution so whenever you want a newsletter sending to your list (up to once per month), you simply send the wording and any images to me and I will format the newsletter and send it to your ever growing list (after you have seen and agreed a proof copy of course)

All email builder software.

Ongoing management of your email list

The email list we build is yours and yours alone. You are welcome to have a copy of the list at any time and if you ever decide to leave the system, your entire list will be sent to you so you can still use it.

Telephone support and help from me when needed

Web hosting costs for your Viral Prize Draw Software

Set up of further Viral Prize Draws as and when required. Many businesses run a different prize draw every month to ensure the email list continues to grow. All of this is included for you.

Since we are confident in our approach, we practice exclusivity. Meaning, we only work with two restaurants per geographic region to maintain the effectiveness of our program.

Your total investment per month is as low as $599.00
This low monthly cost is paid by direct debit and covers a list of up to 5000 emails. When your list grows above that figure and so it is even more profitable for you, your monthly cost will increase for every email on your list. As an example: ongoing costs for a list of 501 to 5000 emails will be $599.00. 5001 to 10,000 will be $1,200.00 and 10,001 to 20,000 $1,800.00 and then 2001 goes unlimited $2,500.00. This is because of the incremental increase in email list software costs but it means that your costs only rise when you already have the list and the increase in profits to make it more than worthwhile.
No long term contract. I'll be working hard to ensure that your email list is constantly profitable for you, but if you ever decide to cancel, then you can do so at any time and the email list you have built will be yours to keep and use as you wish.
Just a tiny 2% response from a list of 1000 emails can increase your weekly revenue by over $900 and so I know that the small monthly cost will be the best marketing investment you'll make.
Please contact me if you have any questions or would like to discuss the possibility further just call or text me.
I look forward to working with you.
Ken Lyman
The Email Marketing Solution Guy!
To order the Viral Prize Draw Software with my Done-For-You system, please use the button below…
Start with the 500 Email list and as it grows you can increase your email by purchasing a larger Email list. All payments are automatically on monthly recurring payments.
You can cancel at any time, you are never under any contract.